This post by Carolyn Jennings, Journal to the Self® Certified Instructor and author of HUNGER SPEAKS a memoir told in poetry, is the first in a series on the benefits of writing for recovery. Through this series, she explores the myths and challenges of journaling and offers hope and insight into her personal experiences with healing from her eating disorder.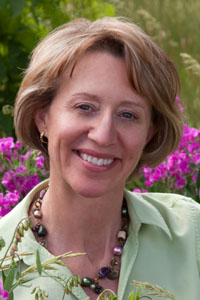 WHO AM I?
Twenty-five years ago, my recovery from binge eating began with counselors, a nutritionist, support groups and my first journal.
Through my recovery and practice of journal writing, I've gone from a people-pleasing, paper-doll cutout to living as a whole, multi-layered woman, complete with a spiritual practice, joy in my body, and relationships to which I bring authenticity and vulnerability.  Years ago, I obsessed about food and body, I dieted and exercised sporadically, and I binged when anxiety built up.  But the obsession was just a cover-up for my isolation and emptiness, depression and anxiety.
Journal writing opened doors to who I really am, what I feel and what I want. I learned that my obsession with food and weight wasn't really about getting thin. Writing brought my confidence, a voice and a sense of myself, things my paper-doll persona didn't even realize she was missing.
THE POWER OF PERSONAL WRITING
Personal writing--what some call keeping a journal--is a tool of awareness.  Awareness is essential in recovery.
Knowing our own minds and hearts, distinguishing between the voices of disease and of recovery, is necessary in wholly developing ourselves and disentangling from the disease.  A journal is not a replacement for therapy or community, but it can be a powerful supplement.  It's also a companion, mirror, listener and confidant when no one else is available. 
Writing is always there for you.  And it doesn't require a lot of your time.
I love days when I can grab a quick check-in with myself at a coffee shop with my journal, breathe in the aroma, do a little people-watching, and see where the page takes me.  It feels like catching my breath. 
One of my favorite writing exercises is called the Five-Minute Sprint, which I learned from Kathleen Adams, founder/director of The Center for Journal Therapy and creator of The Therapeutic Writing Institute and author of Journal To the Self: Twenty-Two Paths to Personal Growth here's how it works:
THE FIVE-MINUTE SPRINT APPROACH with FEEDBACK WRITE
10 minutes total   
Pick a topic, something that's been on your mind lately.  Set a timer for 5 minutes.  Write.  Don't let your pen stop moving.  When the timer beeps, finish your sentence. 
Next do a Feedback Write.  Read what you just wrote.  You can even read it aloud to yourself, hearing yourself speak the words can shift the experience.  See what you notice as you read. What feelings and thoughts does it bring up?  What surprises you? What are you curious about?  What has energy for you?  What excites you?  Is there anything you have questions about or would like to write more about?  Notice any sensations in your body.  Now, take a few moments to write a couple of sentences beginning with the prompt, "Reading, I notice or feel ________________."
You're done!
ABOUT THE METHOD
Here's a bit more about the techniques, but the only thing you really need to be aware of is your own experience of them. 
The 5-Minute Sprint is not some substandard version of what "should be" a longer write.  The technique cuts through all the throat-clearing and already-knowing.  It races past the inner critic, dives deep into the wisdom of your subconscious, and hits the target.  It can reveal a surprising insight that a longer write would meander past without recognition.
Reading your words after you've written them helps you see the insights. Kate Thompson in Therapeutic Journal Writing: an Introduction for Professionals clarifies that the Feedback Write can be about the content of what you've written (or not written) or about the feelings in the writing or feelings evoked as you read your writing.  She writes the Feedback Write can be "the first stirrings of recognition and healing and of making connections to the self...bringing to consciousness the hidden parts of the self."
Creativity and self-expression are inherently healing and empowering.  Make it easy on yourself.  Start writing with Sprints and Feedback Writes.  You will discover plenty of information to guide you to be the best you, the you who will champion your recovery.