In the US, more than 8 million people identify as gay, lesbian or bisexual and 700,000 people identify as transgender. In this installment of the Parent, Family and Friends Network Webinar Series, eating disorder specialists and advocates explain eating disorders among the LGBTQ Community. Presenters Chase Bannister, Troy Roness and Ryan Sallans explain misconceptions on the issue, as well stereotypical social norms, and discrimination felt towards people with eating disorders.
Sexuality and/or gender identity can impact eating disorder development, treatment and recovery. When sexuality, gender identity and eating disorders are intertwined, societal stigma and discrimination contribute to the eating disorder behaviors among sexual and gender "minorities". There are specific barriers present in the LGBTQ community when seeking and participating in treatment; as well as unique challenges faced in recovery.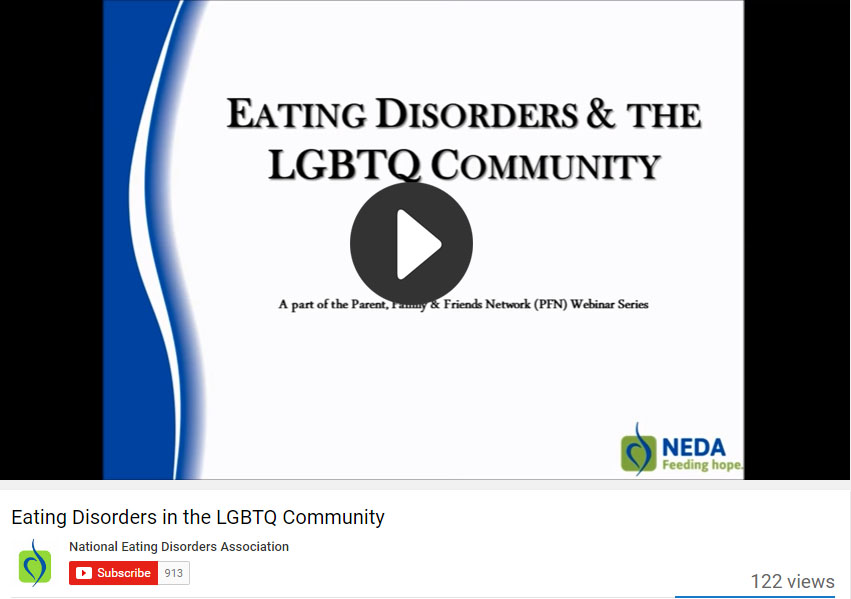 The Webinar attempts to identify the root cause of these eating disorders and discusses the hardship eating disorders carry when affecting LGBTQ persons.
With most eating disorders, disordered eating may initially function as, "a way to mitigate and control difficult feelings." To a person of the LGBTQ community it's an additional obstacle being LGBTQ and/or being out. Eating disorders can be a mental impulse to mitigate and control difficult and ambivalent feelings about androgynous or non- binary gender expression. It can also be a response to trauma and/or a way of coping with anxiety around the body within the gay community.
Watch the webinar now and visit our page on Eating Disorders in the LGBTQ Community for additional information. (http://www.nationaleatingdisorders.org/lgbtq) 
Pride Month on Proud2Bme:
In honor of Pride Month, Proud2Bme interviewed four LGBTQ young people about their experiences with body image and eating disorders. Two interviews have already launched, and the third will be published this Friday (the fourth will go up on June 24). 
· Pride Month on Proud: Aaryn Clerk is Fighting LGBTQ Stigma
· Pride Month on Proud: Josh Won't Let Homophobia Bring Him Down