NEDA is proud to announce that we awarded Aerie with our first NEDA Inspires 'Seal of Approval' for their dedication to unretouched, natural beauty in their advertising. This recognition comes just after the celebration of the one year anniversary of Aerie's #aerieREAL campaign—their corporate commitment to body-positive advertising.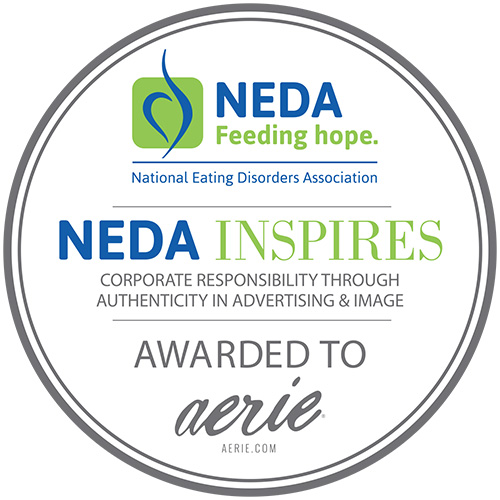 The fashion industry has always been a huge part of the portrayal of unrealistic beauty ideals in our society. Many companies photoshop their models to extremely unrealistic "perfect" bodies, which influences many people to believe they are not good enough. In one recent study, it was found that 69% of American elementary school girls said that their concept of the ideal body shape was influenced by pictures in magazines and 47% said that these pictures made them want to lose weight (Martin, 2010).
Aerie decided to throw away these portrayals about one year ago and with their dedication to body positivity, they were an obvious choice for the first awarding.
This "Seal of Approval" is the brainchild of Iskra Lawrence, an international JAG model, who all too well knows the pressure of beauty caused by the fashion industry. Lawrence tells us that in her past on the runway she was told she had to model the coats because she was too fat for anything else. When she heard about Aerie's commitment to unretouched models, she decided that she needed to become part of their movement. "I wanna look at an image, and be like wow, that's me, I'm in that image. They want me for me." When working on an Aerie shoot, Lawrence feels like everyone is on the same team, they all want these young girls that are seeing their images to know that any body is a good body. They actually care.
Along with their dedication to the #aerieREAL campaign, Aerie partnered with NEDA as the lead sponsor of the NEDA Walks campaign. This constant dedication to the promotion of a healthy body and body positivity, along with their "leadership role and commitment to change and diversity" as said by Lynn Grefe, president and CEO of NEDA, have played part in NEDA's decision to award Aerie with the first NEDA Inspires 'Seal of Approval' at NEDA's 13th annual benefit fundraiser on March 26th.
"We are honored to be the first company to receive the NEDA Inspires Seal of Approval," said Jennifer Foyle, Aerie global brand president. "Aerie is committed to challenging super model standards to spark a conversation with the fashion industry and champion consumers with the true meaning of real and unretouched beauty. We are proud of our partnership with NEDA and hope others will join us in creating authentic advertising and marketing."
Though we are still far away from true acceptance according to many experts, it is necessary to applaud and recognize that a major player in the fashion industry for young girls is taking steps towards progress.
For more information on NEDA Inspires and the recognition of Aerie check out our official press release and Iskra's video: