[This post first appeared on Proud2BmeUS]
My name is Benjamin O'Keefe. I am 18 years old and I have quite a few titles. I am professional stage and film actor, an activist, a political consultant and a public speaker. Oh, and I am me.
"Me" is a title I used to dread to claim. You see, like so many other young people, I suffered to find the beauty in myself. When I looked in the mirror, I hated who I saw staring back at me. I was too fat, too tall, too ugly, too blah blah blah blah. Being me just didn't seem enough. In school, I was constantly bullied and put down, and in the media I was shown images of people who just didn't seem like me. They fit a cookie cutter mold that I could never fit. This drove me into a deep state of depression and eventually contributed to my anorexia.
I would struggle with this depression and eating disorder for many years.
I look back on this time in my life and can't believe I ever reached that point. You see, I am not the person I was back then. That person hated who he was. But now I am so proud to be me. I have come to realize that society's version of beauty is not what I should aspire to reach. Every person has qualities that make them beautiful and the most beautiful quality one can possess is a pride in themselves and who they are.
I have made it one of my missions in life to build others up and show them all the things that make them special. That is why when I saw an article posted earlier this week, I had to take action. The CEO of the clothing brand Abercrombie and Fitch, Mike Jeffries was recently quoted as saying, "In every school there are the cool and popular kids, and then there are the not-so-cool kids," "Candidly, we go after the cool kids. We go after the attractive all-American kid with a great attitude and a lot of friends. A lot of people don't belong [in our clothes], and they can't belong. Are we exclusionary? Absolutely."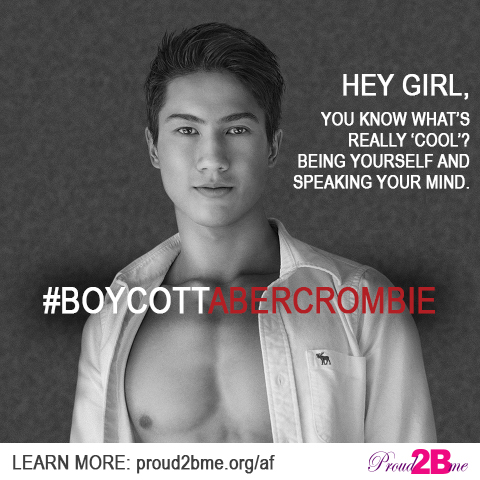 Abercrombie & Fitch has made it clear that they don't want overweight young people wearing their products because according to this popular teen clothing retailer "fat kids" will never be a part of the popular crowd and will therefore never be a part of their brand.
As a young adult who suffered from an eating disorder through much of middle and high school, I remember looking at the ads for Abercrombie and Fitch and combing the racks and not seeing anything that fit me. As silly as it seems, it made me feel worthless to not be able to wear the "it" styling that everyone else was wearing. For the 30.54 percent of teens that struggle through weight problems, they know my sentiment. Instead of inspiring young people to make healthy choices and better themselves, Mike Jeffries and his company has told them they will never be good enough. Well, he is wrong.
Whether you can fit into Abercrombie or not, you are beautiful and you do belong! It's time Abercrombie and Fitch embrace that beauty. You have the potential to be leaders in your groups, to have "a lot of friends," to be "popular," to even change the world; because these things are not dependent on the size of your waist, but rather the size of your heart and the length of your ambition.
Please join me in this fight by adding your name to my change.org petition and boycotting Abercrombie and Fitch until they right their wrongs.