This past National Eating Disorders Awareness Week (NEDAwareness), more than 90 iconic landmarks in dozens of cities were lit in the signature blue and green colors of the National Eating Disorders Association (NEDA) to put a spotlight on the seriousness of eating disorders.
Don't miss our Facebook album of building lighting photographs! Plus, check out this feedback from seven of our volunteers about the powerful impact these lightings had. 
The Helmsley Building - NYC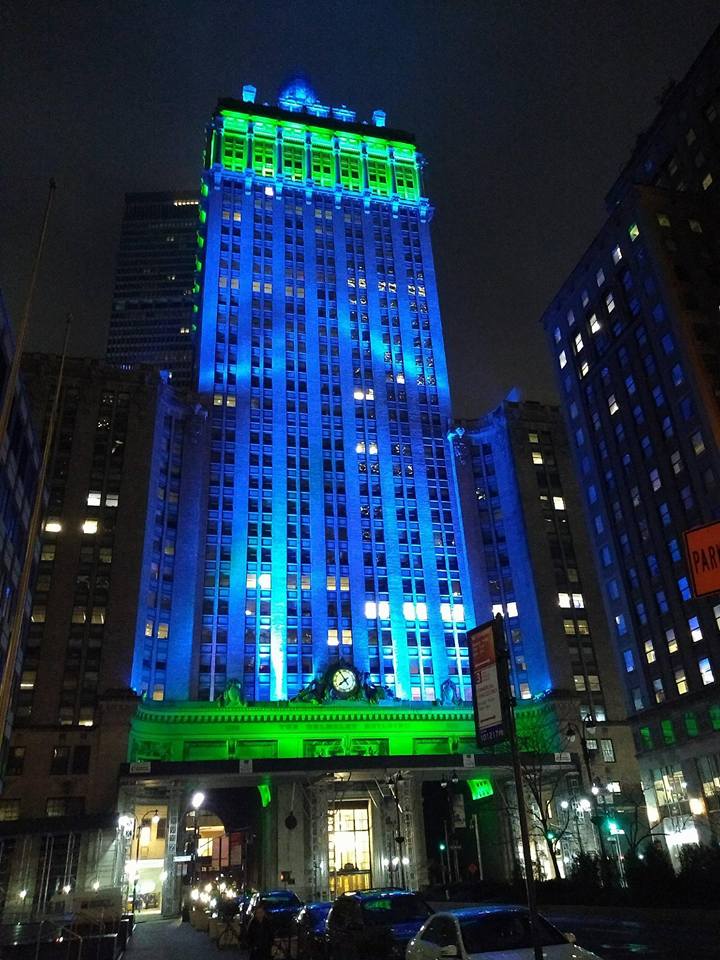 TJ Owens: "The Helmsley Building was magnificent draped in blue and green to symbolize eating disorder awareness and standing in its radiant glow, I was reminded of my struggles and how I overcame my eating disorder. I felt a solidarity with all the other people who are fighting to recover, are in recovery and - I felt like I wanted to invoke the strength of this towering building to continue with my recovery. It was one of the proudest moments I ever had. Thank you NEDA thank you Helmsley Building!" [Photo by Mariana]
Big Dam Bridge - Little Rock
Jillian Tofukuji: "When I heard that Arkansas would be participating in the NEDAwareness lighting this year, I was overjoyed. I saw the Big Dam Bridge illuminated in blue and green from the freeway driving in, and felt an instantaneous sense of solidarity. As someone who lives with an eating disorder, I see the importance of shedding light on this topic and was proud to see Arkansas lending visibility to eating disorder awareness." [Photo by Kelsey Bell]
Boston Harbor Hotel at Rowes Wharf - Boston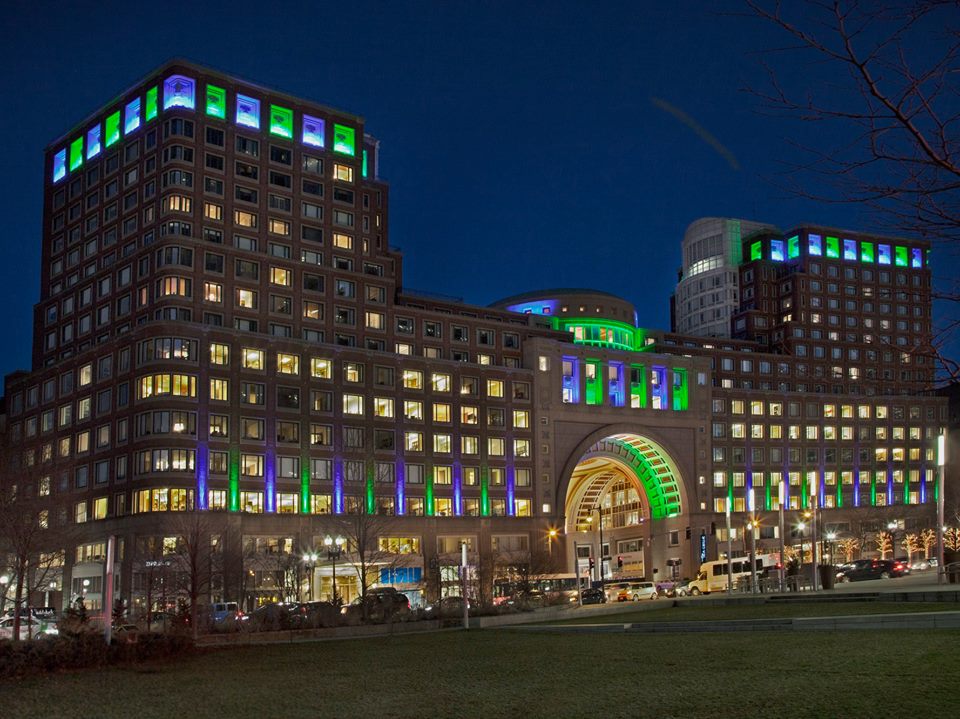 Lauren Hobler: "Volunteering as a photographer for the 2018 NEDA lighting was a meaningful experience that continues to resonate. So much hope, reflection, and inspiration is found in the moment upon witnessing the lights spread across the city. The lighting provides a healing opportunity for many like myself who understand how hidden inside an eating disorder can be. The visibility is empowering and the sharing of it even moreso."
AON building and Prudential Plaza - Chicago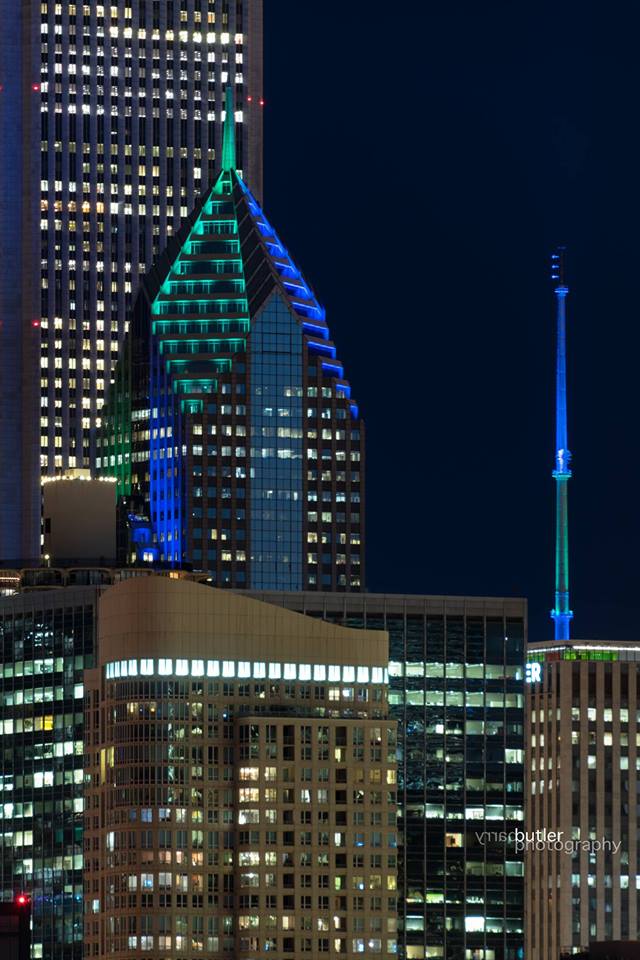 Samantha Brior: "When I took the picture of the AON building and Prudential Plaza in light of NEDAwareness week in Chicago, it reminded me of just how badly I want to help those that feel like they are fighting this disease alone. To anyone else, it could just be buildings lit up, but to fighters everywhere it is a sheer sign that we will stand tall and not let this disease control our lives." [Photo by Barry Butler Photography]
Lake Eola Park Fountain - Orlando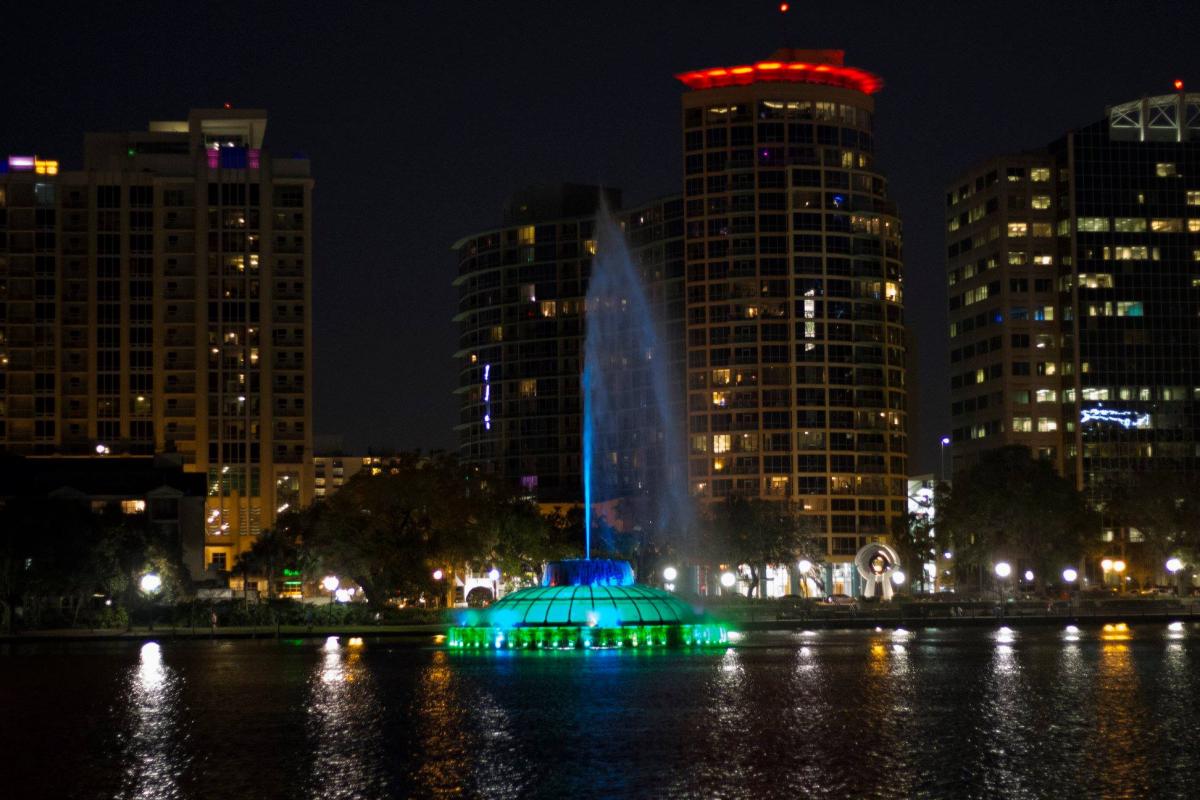 Emma Shaner: "I recently moved to Orlando, Florida from Columbus, Ohio for my dream internship after graduating college. Seeing the Lake Eola Park fountain lit up in NEDA's blue and green felt like a welcome home—an I see you, I hear you, and I understand you. Being far away from my recovery support system fairly early in my journey has been difficult, but this was a reminder that no matter where I go, I will always be stronger than my ED." [Photo by Emma Shaner]
Mercedes-Benz Superdome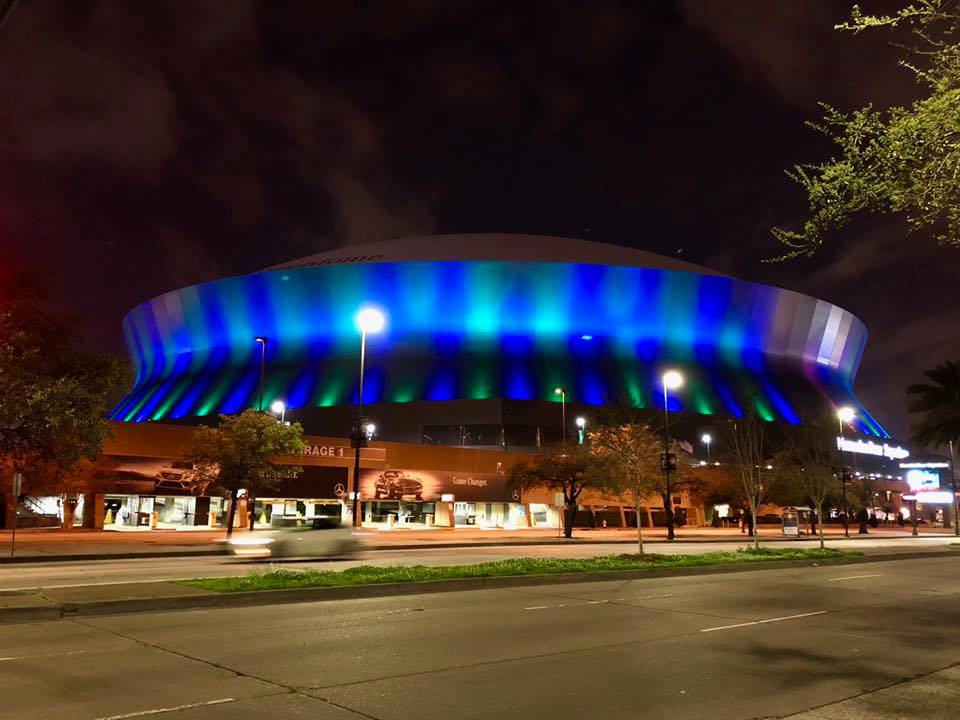 Patty Teigen Long: "What does seeing the Superdome lit up in blue and green mean to me and my family? Simply put.."Hope." As we help navigate the road to recovery with our young daughter, seeing a building that represents strength and endurance in my city lit in blue and green is breathtaking." [Photo by @PattyTeigenLong]
Houston City Hall - Houston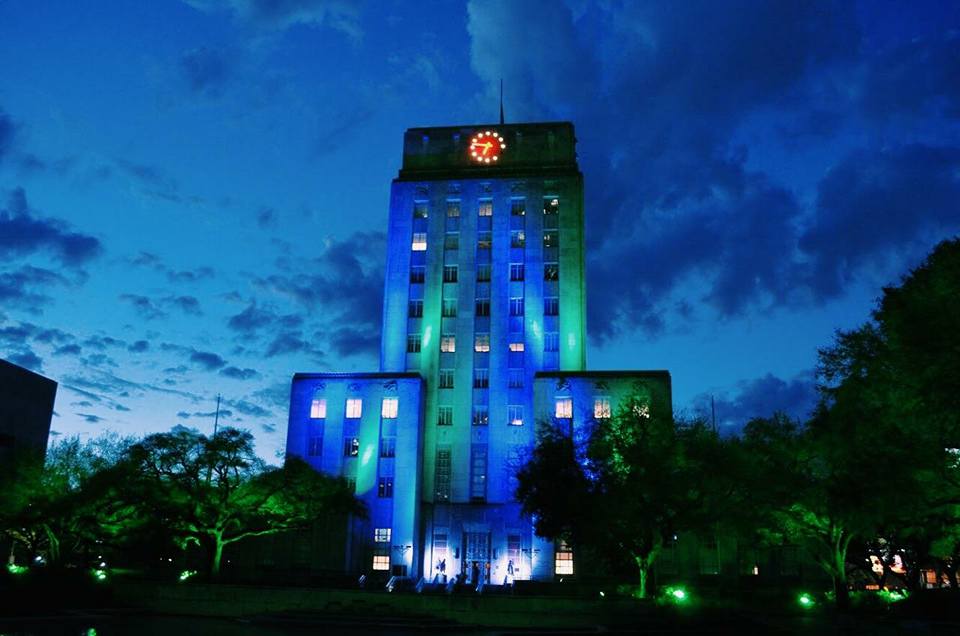 Priya James: "Eating disorders are still, unfortunately, illnesses that are not really talked about or understood. As one of the co-chairs of the Houston NEDA Walk and someone who has been directly affected by an eating disorder, I feel an overwhelming sense of pride standing in front of such prominent city buildings being lit up in NEDA colors. Each year the lighting makes me feel like all the hard work that myself and others in the city do for awareness is really making a difference." [Photo by Piper Gourley]