Making Connections Magazine
Making Connections is by and for PFN members, featuring vital information on a diverse range of topics and fellow members' personal stories. The magazine offers insight, tools for recovery, strategies for self-care, and hope.
Thank you for reading NEDA's Parent, Family & Friends Network (PFN) magazine, Making Connections!  We want to hear from you! We listen to what you have to say, incorporate your feedback and would very much appreciate you taking a few minutes to complete this evaluation here.
Current Issue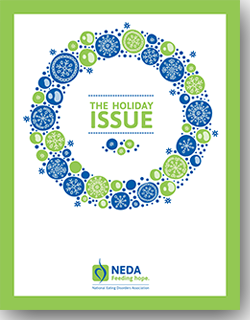 View the "Holiday Guide" as an E-Publication
View the "Holiday Guide" as a PDF
Most Recent Issues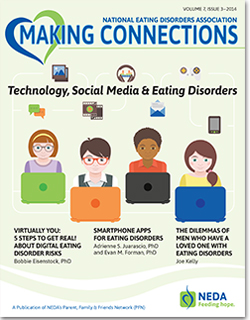 View Volume 7, Issue 3 as an E-Publication
View Volume 7, Issue 3 as a PDF
Archived Editions
Spring 2012
Winter 2012
Fall 2011
Summer 2011
Spring 2011
Winter 2011
Spring 2010
Winter 2010
Winter 2009
Fall 2008
Summer 2008
Spring 2008