Making Connections Magazine
Making Connections is by and for PFN members, featuring vital information on a diverse range of topics and fellow members' personal stories. The magazine offers insight, tools for recovery, strategies for self-care, and hope.
We are always in need of informative and inspiring articles!  If you are interested in submitting an article for Making Connections, please fill out the article submission form here.
Thank you for reading NEDA's Parent, Family & Friends Network (PFN) magazine, Making Connections!  We want to hear from you! Your feedback is crucial for the planning of future issues of the magazine. We listen to what you have to say, incorporate your feedback and would very much appreciate you taking a few minutes to complete this evaluation here.
Current Issue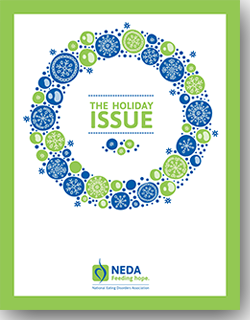 View the "Holiday Guide" as an E-Publication
View the "Holiday Guide" as a PDF
Most Recent Issues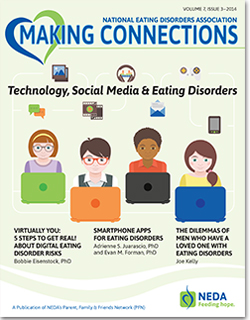 View Volume 7, Issue 3 as an E-Publication
View Volume 7, Issue 3 as a PDF
Archived Editions
Spring 2012
Winter 2012
Fall 2011
Summer 2011
Spring 2011
Winter 2011
Spring 2010
Winter 2010
Winter 2009
Fall 2008
Summer 2008
Spring 2008