Connect for the cause as a member organization of the NEDA Network!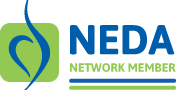 The NEDA Network is a collaboration between NEDA and other like-minded organizations dedicated to our cause. Together, we provide a unified voice of strength, advocacy and support in the fight against eating disorders.
Organizations that join the NEDA Network maintain their own names and identities, but they become a part of the NEDA family. As such, they receive member benefits and the right to use the "NEDA Network Member" logo in support of their efforts.
Why Join The NEDA Network?
As a member of the NEDA Network, you become a partner with the largest organization in the country supporting those affected by eating disorders. Together, our work is a catalyst for prevention, cures and access to quality care. As a national voice, NEDA Network members have the power to create formidable change in the field of eating disorders and our communities.
"We've truly designed this program to be of mutual benefit to the non-profits that participate. As the Executive Director of a statewide non-profit organization, I couldn't wait to help put this collaborative effort into action. That's why I agreed to be the Chair of the NEDA Network Committee. We see this as an incredible opportunity for synergy between the national organization and groups all over the country who can benefit by joining forces with each other." – Beth Mayer, LICSW, MEDA
 To learn more and explore member benefits, please contact [email protected]
NEDA Network Members
American Anorexia/Bulimia Association of Philadelphia (AABA)
Community Outreach for the Prevention of Eating Disorders (COPE), Florida
Diana Jodel Foundation, Georgia
The Eating Disorder Foundation, Colorado
Eating Disorder Network of Central Florida
Eating Disorder Network (EDN) of Maryland
The Elisa Project, Texas
Helping Other People Eat (H.O.P.E.), Florida
Michigan Eating Disorders Alliance (MIEDA)
Missouri Eating Disorders Association (St. Louis)
Multi-Service Eating Disorders Association, Inc. (MEDA), Massachusetts
The National Association for Males with Eating Disorders (NAMED)
Oklahoma Eating Disorders Association (OEDA)
Ophelia's Place, New York
Project Heal
Renewed Eating Disorders Support, Tennessee
Realize Your Beauty
T.H.E. Center for Disordered Eating, North Carolina
Tri-State Eating Disorder Resource Team, Indiana
Walden Center for Education & Research
| | |
| --- | --- |
|   | |
| | |
| |   |
| | |
| |   |
|   | |
| |   |
| | |
| | |
| |   |