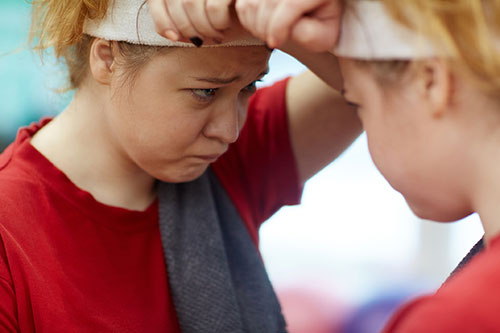 What is Weight Stigma?
Weight stigma, also known as weight bias or weight-based discrimination, is discrimination or stereotyping based on a person's weight. Weight stigma can increase body dissatisfaction, a leading risk factor in the development of eating disorders. The best-known environmental contributor to the development of eating disorders is the sociocultural idealization of thinness.
It is never acceptable to discriminate against someone based on their size, but shaming, blaming, and "concern trolling" happen everywhere – at work, school, in the home, and even at the doctor's office. In fact, weight discrimination occurs more frequently than gender or age discrimination.
Despite its unfortunate prevalence, weight stigma is dangerous and can increase the risk for adverse psychological and behavioral issues, including depression, poor body image and binge eating.
The Impact of Weight Stigma
Weight stigma poses a significant threat to psychological and physical health. It has been documented as a significant risk factor for depression, body dissatisfaction, and low self-esteem. Those who experience weight-based stigmatization also:
Engage in more frequent binge eating
Are at an increased risk for eating disorder symptoms
Are more likely to have a diagnosis for binge eating disorder (BED)
Victims of weight stigma report physicians and family members are the most common source of weight bias. Among family members, weight-based teasing and diet talk are linked to binge eating, weight gain, and extreme weight control behaviors. Weight bias in health care is another important concern. 
Research shows that healthcare providers, when talking to obese patients, tend to: 
Provide them with less health information
Spend less time with them
View them as undisciplined, annoying, and noncompliant with treatment. 
The Problem with Obesity Prevention Campaigns
Attention given to weight control has skyrocketed in recent years, ingraining words like "BMI," "obesity epidemic," and "diet" into our national vocabulary. Since the rise of national obesity prevention campaigns, the incidence of weight stigma has increased about 66%. The research is clear: overemphasizing weight can encourage disordered eating and have counterproductive effects.