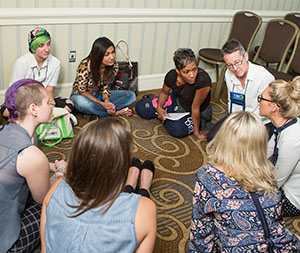 #NEDAcon: Philadelphia 2018
NEDA's first Regional Conference will take place Saturday, May 12 at Drexel University.
#NEDAcon is designed to bring together individuals and loved ones who are experiencing eating disorders or wanting to learn more about eating and body image issues. Our regional conferences are a great way to connect with others looking for information and support. 
Event DETAILS
May 12, 2018 | 8 AM - 5 PM
Drexel University
Behrakis Grand Hall: Creese Student Center
3210 Chestnut St, Philadelphia, PA 19104
Located just blocks from Philadelphia's 30th Street Station and SEPTA transportation, #NEDAcon:Philadelphia 2018 is easily accessible in a variety of ways.
About the Programming
Please join us this year in Philadelphia to connect with knowledgeable professionals in the area speaking on topics such as:
Eating Disorders Information and Research
Recovery Tools
Body Positivity
Media Literacy
Support for Loved Ones
Travel & Lodging
Philadelphia, PA is easily accessible by the Northeast Corridor Amtrak line. It also has a large international airport.
Here you will find a list of local hotels at a variety of price points. NEDA does not have a hotel block or reserved rooms at any of these, so we encourage you to choose the best option for you. Air B&B is also an option that has lower cost accomodations in residences in the Philadelphia area.