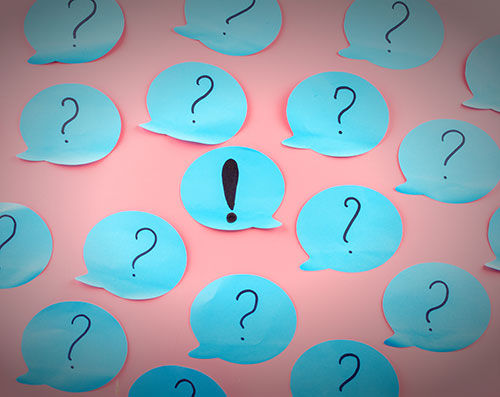 It is important that people with eating disorders seek professional help. There are many differing approaches to treatment and no one-size-fits-all approach. Since there isn't a single approach that is considered superior for everyone, it is important to find the option that works for you. Coming prepared with a list of questions to ask a potential provider can help you make that choice.
QUESTIONS TO ASK WHEN INTERVIEWING A TREATMENT PROVIDER 
What is your experience and how long have you been treating eating disorders?
How are you licensed? What are your training credentials? Do you belong to the Academy for Eating Disorders (AED)?
How would you describe your treatment style?
What is your appointment availability? Do you offer after-work or early morning appointments? How long does each counseling session last? How many will there be and how often?
Do you stay up to date on the latest research and treatment recommendations for eating disorders?
How do you treat coexisting mental health conditions such as depression or anxiety?
What psychotherapeutic approaches and tools do you use?
What kind of medical information do you need? Will a medical evaluation be needed before treatment begins?
What are the measurable criteria you use to assess how well treatment is working? Can you give me a few examples? Do you or your facility have a quality improvement program in place, or regularly assess the outcome of the treatment provided?
How will you work with other treatment providers, such as medical doctors, who may need to provide care?
Will you work with my workplace/school? How often do you communicate with them?
Do you work with a psychopharmacologist if medication seems indicated or do I find one on my own?
Which, if any, insurance plans to you participate in? Will you bill my carrier directly (if your visits are covered)? What is your fee structure if I don't have insurance coverage, or should I lose it during treatment? Do you have a sliding fee scale?
How do you involve key family members or friends?
Do you deal directly with the insurer or do I need to do that?
When is payment due?
Approximately how long will the treatment process take? When will we know it's time to stop treatment?
What is your availability in an emergency? If you are not available, what are my alternatives?
HELPFUL QUESTIONS FOR THE TREATMENT PROCESS
Once you have chosen a treatment provider, here are some helpful questions you might want to consider asking as the treatment process develops. Remember that at any time during treatment, you can raise questions and consult your treatment provider regarding areas of concern.
What is the diagnosis?
What treatment plan do you recommend?
Will you or someone else conduct the treatment? If it will be someone else, does that person work for you or would this be a referral? Will you supervise the treatment? Who is the team leader?
Which other professionals will you be collaborating with during the treatment?
Is a physician an integral part of the team?
What are the alternative treatments?
What are the benefits and the risks associated with the recommended treatment? With alternative treatments?
What will be the sequence of treatment strategies?
Are there any physical complications of the eating disorder that need to be treated?
Are there any associated psychiatric disorders that will need to be treated?
What role will family members or friends play in the treatment process?
QUESTIONS TO HELP FAMILIES STAY INVOLVED
Support from parents and family is a crucial part of the treatment process. Below are some questions you can ask the treatment provider to assist you in providing the best support possible for your loved one. Remember you may need to be proactive to help ensure the communication process flows smoothly. And don't forget to find support for yourself! As a parent, family member, or friend it is easy to overlook the self-care you need while you are focused on your loved one's recovery.
How can I help to support my family member during treatment? What is my role within the treatment?
How often will you talk to me about my family member's progress?
What if my family member doesn't want to participate in therapy?
How will the family be prepared for the patient to return home (if in a treatment center)?
What books, websites or other sources of information would you recommend?
How much weight gain should be expected in what time period if my loved one has anorexia nervosa? What can I do to support my family member during a time of weight gain?
Is it my responsibility to monitor feeding and/or weight? What procedures should we follow?
How do family members determine if purge behavior is occurring in the home setting? What action should we take if we notice this behavior?
If my family member is being treated as an outpatient, how will the team decide if more intensive intervention is needed?
How and how often will the team members (ex. therapists, physicians, nutritionists, etc.) communicate with each other?
If I become anxious about my family member or if problems arise, who should I call?