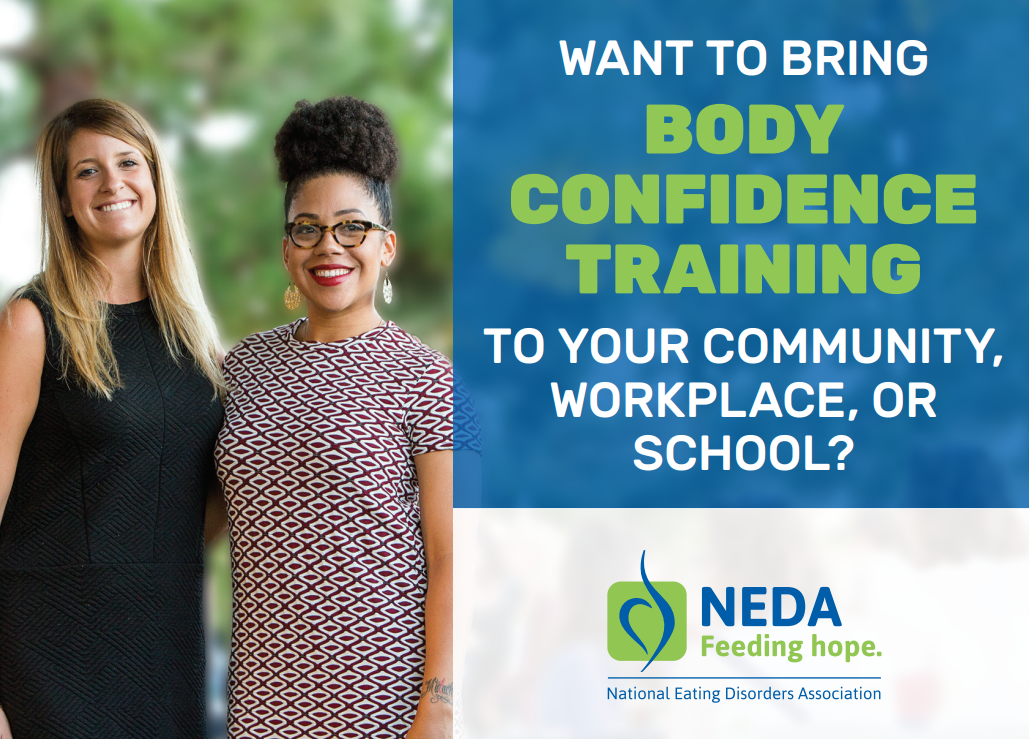 Thirty million people in the United States will struggle with a clinically significant eating disorder at some point in their lives. Prevention and early intervention efforts aimed to increase body acceptance can reduce disordered eating symptoms as well as help to create an environment that encourages healthy recovery. Numerous studies have linked exposure to prevalent "appearance ideal" in mass media to body dissatisfaction and disordered eating. 
Research has shown when women/girls talk about the "appearance-ideal" (sometimes referred to as the thin-ideal, beauty-ideal, or cultural-ideal) portrayed in the mass media, and discuss how to challenge pressures to conform to these pressures, it makes them feel better about their bodies. One program that has repeatedly been shown to effectively reduce body dissatisfaction, negative mood, unhealthy dieting and disordered eating, is the Body Project.  
What is the Body Project? 
Backed by two decades of research and evaluation data, the Body Project is a group-based intervention that provides a forum for women and girls to confront unrealistic beauty ideals and engages them in the development of healthy body image through verbal, written, and behavioral exercises. The Body Project was developed by researchers at Stanford University, the University of Texas at Austin, and Oregon Research Institute, and has been delivered to over one million young women around the world. 
The conceptual basis for the Body Project is that if girls and young women voluntarily argue against the societal appearance-ideal, this will result in a reduced subscription to this ideal and to consequent decreases in eating disorder risk factors and eating disordered behaviors.
What are the objectives of the Body Project?
Define the "appearance" ideal and explore its origin
Examine the costs of pursuing this ideal
Explore ways to resist pressures to conform to unrealistic standards of beauty
Discuss how to challenge personal body-related concerns
Learn new ways to talk more positively about our bodies
Talk about how we can best respond to future pressures to conform to societal standards of beauty
How can I become a Body Project facilitator? 
To conduct the Body Project, an individual must first attend an 8-hour training to become a program facilitator. The facilitator is then able to offer the program to groups of six to twelve girls at a time for four one-hour (or six 45-minute) sessions. 
The National Eating Disorders Association (NEDA) offers Body Project facilitator trainings for individuals, schools, and organizations working with high school-aged girls. Facilitators must be women who are 18 years or older and in strong recovery from an eating disorder (if applicable). 
For individuals interested in being trained by NEDA, we offer trainings at our office in NYC and in select cities across the country. 
For schools and organizations interested in training their staff or members of their community, NEDA welcomes the opportunity to expand its work with the Body Project and lead a training in your area. 
To learn more about getting involved with the Body Project, please email [email protected].
Upcoming Body Project Trainings
NEDA is bringing Body Project trainings to a city near you!
New York, NY
Boca Raton, FL
Columbia, SC
Houston, TX
Indianapolis, IN
Los Angeles, CA
Newark, DE
Philadelphia, PA
Phoenix, AZ
Portland, OR
Richmond, VA
Seattle, WA
Twin Cities, MN
Washington, DC