Stories of Hope
"Is There Fat In That?"… a one woman show
By Ellen Domingos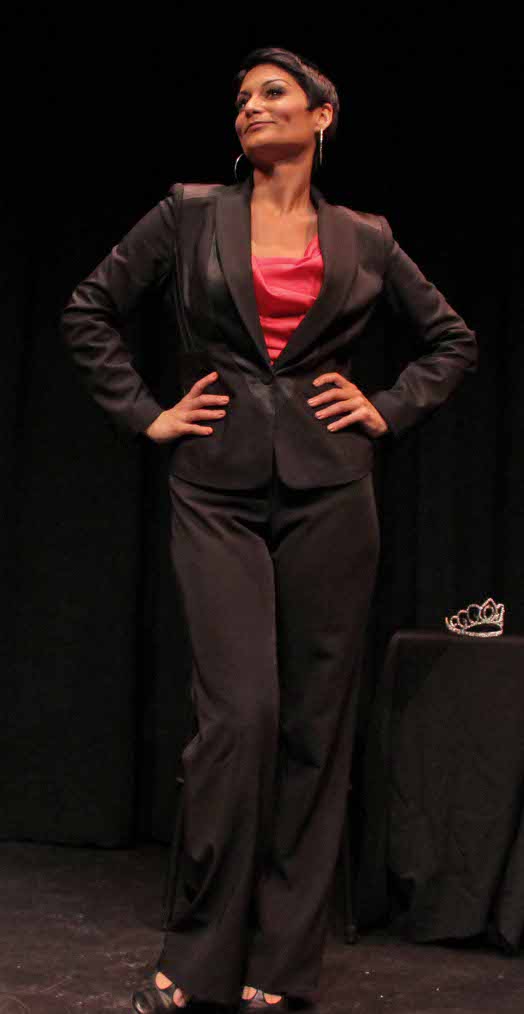 From the time I was a little girl, I knew I wanted to go to New York City to "make it big." For the majority of my life, I have been on some sort of a stage. At the age of eight, I began performing professionally in theater. At the age of twelve, I was performing across the country after winning the national title of Miss National Pre-teen in Orlando, Florida. At the age of eighteen, I was studying musical theater at The Boston Conservatory of Music and then earning my BFA in Acting at New York University's Tisch School of the Arts. By my late twenties, I had performed on off-Broadway, in regional theater, touring companies, cruise-ships, voice-overs, commercials, television, and film. I had worked with Tony nominees and an Emmy and Grammy award winner. I had modeled for several clothing lines and appeared on book covers, catalogues as well as Marie Claire and Latina magazines. And at age twenty-eight, I was a patient at the New England Eating Disorder Program at Mercy Hospital. A lost woman trying to figure out how I had got there and how an eating disorder had taken over my life.
I went on my first diet at age fourteen. Certain people close to me suggested that if I wanted to have a life in show biz, I would need to look a certain way and lose the extra pounds that I had naturally put on with the onset of puberty. One day a company manager at one of the theaters that I worked at called me into his office for a talk. "Ellen, what is happening with you? You have put on so much weight. I thought you wanted to do theater. I thought you wanted to be a model. You can't do that like this." At fourteen, my mission became clear. If my life was going to be a happy one and if I wanted to fulfill my goals, I needed to be skinny…perfect. Happiness for me all depended on controlling my food.
And for awhile, I did. Control it. That diet "worked." I lost weight. Freedom! I was a new teenager! Suddenly, the most popular, cutest Senior boy wanted to be my boyfriend. Getting measured for my theater costumes was no longer a chore and something to dread. That company manager, he liked me again. People commented on how great I looked. But, it wasn't enough. I wasn't skinny enough. I wasn't perfect. So, I put up photos of my favorite supermodels and Broadway stars in my bedroom and told myself, "By the end of the year, I am going to look like them." They looked so happy with their beautiful clothes and their beautiful make-up. I told myself that if I can just not eat, then I will lose more weight, then my dreams of Broadway and modeling will come true. Then I'll be happy.
High school was about my relationship with the diet rollercoaster. I would go days eating very little, trying to lose weight. Then I'd be so hungry that I would over eat, pillaging the cupboards. My weight would fluctuate a little up, a little down. I began taking more extreme measures to control my weight. If I thought it would work, I was in. But the over eating became more frequent, and I worried – I have no will power, I have no control, if I keep doing this, I will never reach my dreams and be happy. I didn't want anyone to know that I couldn't control my food especially since my happiness depended on it. I began to sneak food whenever I could. Because in the food, I found relief. I found escape from my thoughts for just a single moment. In front of people I ate "perfectly," but alone? Alone was now my chance to eat and food was now my friend. Food didn't judge or lecture or ask me to be something different. My diet rituals were firmly in place just in time for college and my first year away from home.
College was more of the same. Except now it was a high pressured, competitive atmosphere full of classes, auditioning, practicing and performing, mixed in with a daily battle to control my weight and food. I was secretly taking more extreme measure and losing control of the yo-yoing between restricting and bingeing. I was in a spiral that I couldn't get out of. Upon graduation, most of my fellow students began the process of starting their career. I, however, was lost, depressed and now overweight. I felt that I had lost the right to pursue my dreams.
My big arrival in NYC was not quite how I had imagined it as a kid. And after a few years in the Big Apple, I was not on Broadway. I was not a model. I was, however, a broke Hell's Kitchen bartender who lived in a minuscule apartment across from Port Authority Bus Terminal. And, I was bingeing and attempting to compensate every day and very overweight.
I knew I had to do something. My dreams were slipping by me. I asked myself if I wanted to be on Broadway and successful or not. I asked myself if I wanted to be happy like those gorgeous NY supermodels or not.
And so, I focused… on my road to happiness. I pulled myself out of my disordered binge eating and just like at fourteen years old, slowly I started to lose weight. And, slowly, I started getting acting jobs. And, slowly, with each acting job came a little more confidence and eating a little less and exercising a little more. And then one day I noticed, I'm the one who just landed that good theater job, I'm the one who was just signed by a New York City modeling agency... I'm the one living my dream.
And for awhile, I did live my dream. In some ways, without even realizing it, I was that model I had posted on my bedroom wall. I was modeling for Levis and Sears and the NYC garment district. I was performing at regional theaters across the country working with amazing people. I was going to trendy parties and meeting trendy people. I was underweight. I was supposed to be happy.
But I wasn't happy. Because my years of disordered eating soon became a full blown eating disorder of many colors - anorexia, bulimia and binge eating. One week, I collapsed on the train platform from weakness. The next week I'd lock myself in my apartment, just me and my food, eating until I was sick. I'd throw food away in my garbage, so as not to eat it only to find myself picking it out a half hour later. I ate so much that my bones and muscles literally ached and were sore to the touch. My face was so swollen from food consumption sometimes it was hard to open my eyes. I had become a woman I did not know. A woman who was smoking a pack a day, and risking her life with dangerous weight control measures. A woman so malnourished she hadn't had her period in two years. A woman who spent 2 hours in the grocery store looking at every nutritional ingredient and then leaving the store with nothing. A woman who made up excuses for why she couldn't work or meet friends or date men because it interfered with controlling her food. This woman wasn't happy. This woman was ill. This woman locked herself in her apartment for seven days eating so much she was in danger of her stomach literally bursting. So this woman knew she had to leave her life of performing and modeling in NYC and go home to figure it out.
When I think about my recovery from my eating disorder, I think about it as my very own Mt. Everest that I had to climb. It was a difficult journey. There were painful set back along the way. At times I wanted to give up. And, I needed a lot of help to get to the other side.
Help for me came in many different forms, all of which and not just one, contributed to my recovery– private therapy, support from family and friends, participating in the New England Eating Disorder Program at Mercy Hospital and most unexpectedly, in a show.
While home and embarking on the difficult journey of healing, I found myself in desperate need of a creative outlet to express my emotions at the time. My long time friend and theater director, Brian P Allen, said "Write." I did. Together, we created the show, Is There Fat In That?
Is There Fat In That?
is the
true musical story of: a local theater star at 8, a National Preteen Queen at 12, a starving New York Model at 24... and an eating disorder patient at 28.
I have performed the show quite a few times now, and after every performance, I am always met at the stage door byan audience member who wants to share
their s
tory with me. I am always humbled and moved by this. And, I am always filled with an overwhelming sense of hope.
Every single one of us has a story to tell.
Is There Fat In That?
is my story. I hope it entertains. I hope it educates. I hope it makes the audience laugh out loud, cry, hum a few songs and leave the theater believing in the power of knowing and loving who you are.
My life today is a happy one. Of course, I'm not happy constantly. That's impossible. I cry, I get angry, I have stress. That's life. But, I am no longer consumed by an eating disorder. I eat when I am hungry. I stop when I am full. I do yoga and stay active. I listen to my body instead of manipulating it. I try to make smart choices in all aspects of my life – health, career, relationships, love. I have an overall sense of peace that permeates how I live. I've learned that I don't have to be on Broadway or a model to be worth something. It is enough just being me. Thankfully, I am not perfect, and it feels good.
My goals for the futureare clear, and I have new dreams now- to put a spotlight on eating disorders, release the shame that accompanies them and help others see the gift of recovery.
Everyone deserves happiness. Everyone deserves health. Everyone deserves to follow their dreams. It is never too late.
To learn more about Ellen and to book her show, please visit

www.istherefatinthat.com

or

www.ellendomingos.com

. Ellen is currently working on an organization that will bring her two passions; the arts and eating disorder awareness, together
Back to top