Stories of Hope
There is ALWAYS Hope: From a Wife's Perspective
By Lindsey Avon
?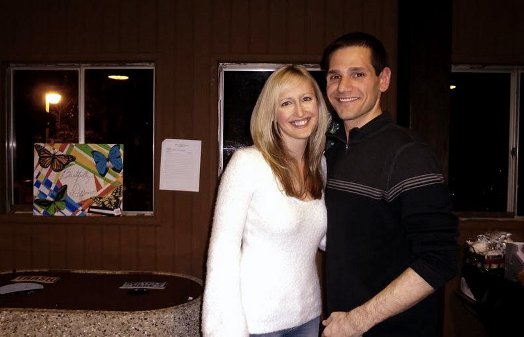 My name is Lindsey Avon. I have been married to my husband, Vic, for over five years, and we have been together for eleven years. I have been with him before, during, and in his recovery from his eating disorder.
When Vic's eating disorder began I knew something was wrong, but I didn't know the name or "label" for it. I could see that he was closed off, shut down, moody, uncaring, exercising a lot, etc., but I thought it was a phase and that it would pass. I was naïve and tried to just get him to "eat this" or "eat that." I didn't understand what was happening or what to do about it. I talked to his parents and they would come over to speak to him, but nothing would work. He would always have this blank stare on his face and nothing or nobody could get through to him. I watched him fade away both physically and emotionally, and it was the scariest thing I've ever seen. He was not the person I knew and loved.
Vic had to hit his own rock bottom and sought out treatment at Princeton University Medical Center in Princeton, New Jersey in March 2008 (6 years into this illness). As his wife, it was extremely crucial for me to seek support and help during his hospitalization. I knew he was being taken care of while in the hospital, and I needed to make sure I had someone there to help me take care of myself. The love and support I received from Vic's family was immeasurable. We attended family weekends at the hospital, went shopping, etc. Also, it was helpful for me to have some normalcy through everything. I would go out to lunch with my mother-in-law, grab dinner with friends, go to the movies, etc. My close groups of friends were a huge life line for me. I could call them day or night and they were there for me. It allowed me to cope with everything while it was happening. It was also nice when they researched about eating disorders, and tried to educate themselves on the illness.
There were some people in my life who were not supportive of Vic and me. They didn't understand the disease or even try to educate themselves about it. Some people do not believe that eating disorders are a disease. I have learned through years of therapy that I have to surround myself with good hearted, caring, positive people. The people that aren't 100% supportive of Vic and I, have no place in my life.
In addition, some people believe that it is just a "girl's disease." People do not understand that eating disorders do not discriminate. You can be young, old, black, white, male, female, etc. I myself fell into this trap from time to time. I had to let go of any preconceived ideas about the illness and really dedicate myself to learning about the disease and about recovery. Vic and I had to break the mold and stop the stereotype of the typical eating disorder sufferer and his or her family.
It was crucial for me to also seek my own individual therapy during this time. It was nice having someone to aid and guide me in being the best wife/support system I can be for my husband. The family members of people battling eating disorders have to help themselves as well. Just as the person battling the illness needs therapy/treatment, so do the family members. It truly is a family disease and the family's lifestyle has to change and grow in order for the home to be a nurturing, peaceful, and positive place for the person to recover in.
Bottom line is to always remain positive. I knew Vic was strong enough to overcome his "monster" as he calls it. There wasn't a day that I lost hope in that. To this day he continues to amaze me with all of his accomplishments in his recovery. I am so very proud of him and am honored to be his wife. I love watching him grow and flourish into such an amazing person. He is and always will be the strongest person I know. Recovery is possible. Stay Strong.
Back to top