In honor of National Eating Disorders Awareness Week, NEDA will be joining with eating disorder organizations around the world to raise awareness and funds through the 'Sock It to Eating Disorders' campaign. Inspired by an international support network with Joan Riederer, the idea emerged among her many friends in honor of Joan's daughter Erin who lost her life to anorexia. 
The 'Sock It campaign' is a symbol of hope and healing as well as a message that we can come together to make a difference in the lives of those affected by eating disorders. In the US, NEDA will be partnering with Perfect As U Are, an apparel company that will be generously donating $1 from every pair of socks purchased back to NEDA, to support our program and services. 
Buy your socks now and use the promo code SOCKIT at checkout!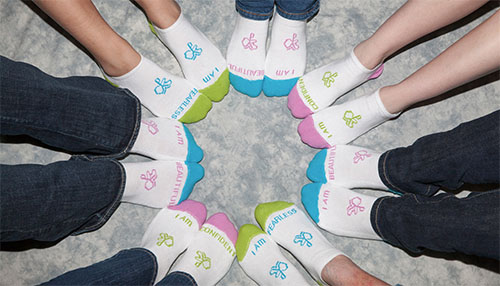 To learn more about how to participate in the Sock It to Eating Disorders Campaign, check out this guide! You can also check out what people are doing around the world on the SockIt to Eating Disorders Facebook page.