The internet can be a scary place. I love social media but I also know that it can be full of photos of unattainable bodies, ads for products to make us fit society's beauty ideals, and people more interested in making hurtful memes than spreading body positivity. It's easy to get mired in negativity and to feel like there isn't a place for you in the Kardashian-dominated media landscape that we find ourselves in today.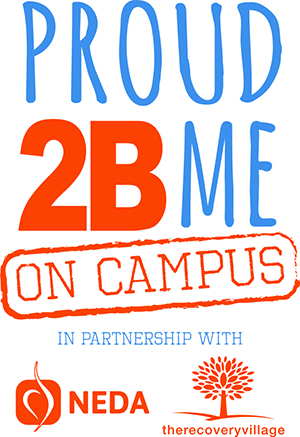 Proud2BMe.Org is that place. Proud2BMe is an online community for and by young people who want to change the way we talk about food, weight, and body image. The site explores body positivity, eating disorder recovery, activism, and the media. In this world of "Get that bikini body" and "How to get perfect abs", we are an empowering alternative to body-shaming sites and media. Our focus is on expanding the dominant narrative around body positivity, and we are moving away from the idea that there is only a "certain type of person" who struggles with body image and eating disorders. Some of our most recent pieces have explored how to advocate and promote awareness on a college campus, how to navigate a romantic relationship after ED recovery, and the question, "Where are the plus-size male models?" From BMI "fat letters" to sexist Superbowl ads, Proud2BMe is a space for people looking to challenge the limited ways in which our bodies are told to exist in society. We also feature some incredible interviews with body positive heroes and young activists for inspiration. 
In 2013, Proud2BMe and NEDA released the results of our Collegiate Survey Project, which was launched in response to the volume of requests NEDA receives for information about eating disorder-related services on campuses, as the rate of eating disorders among college students has risen to 10-20% in women and 4-10% in men. We surveyed 165 colleges and universities and found that greater funding and resources are needed on college campuses to educate, screen, and treat students struggling with eating disorders. 
That's why we've launched Proud2BMe On Campus, a national initiative to bring students, faculty, and campus services together in the fight against eating disorders. We know that with early detection, intervention and awareness, we can make a difference. 
Bringing Proud2BMe On Campus to your school can be done in many ways; starting a club that promotes body diversity and self-acceptance, hosting events that discuss media literacy or asking your health center to offer more resources about eating disorders. This initiative invites originality and creativity as each campus's personality is different from the next. 
We have a several how-to kits available for planning events on your campus, as well as a great webinar and youtube video for student advocates looking to spread awareness and get involved. 
If you or a friend or family member is interested in connecting with Proud2BMe or writing for us, email [email protected] and check us out on our social media channels: Facebook, Twitter, Tumblr, Instagram, and Pinterest!