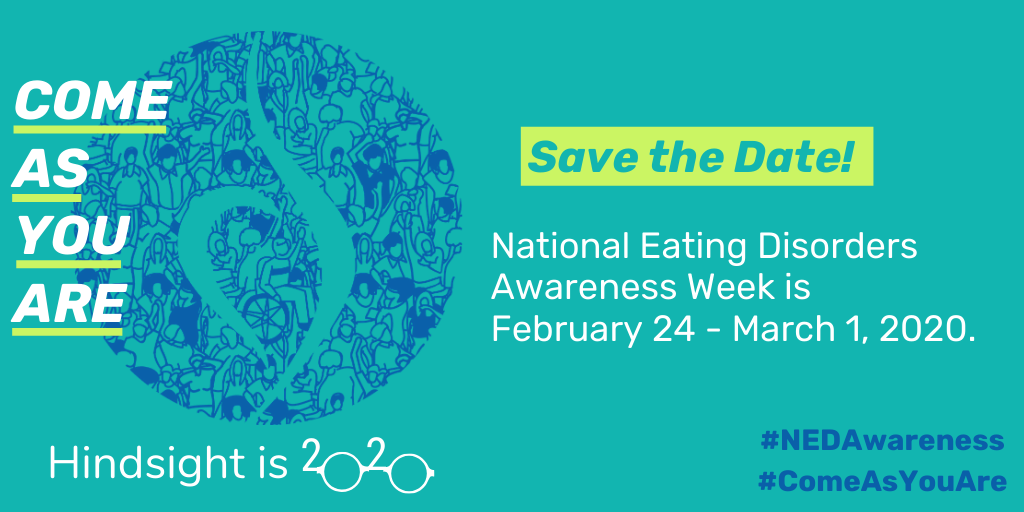 From the famed Empire State Building in the east to Los Angeles International Airport's stylish, 100-foot, glass pylons in the west, more than 100 iconic landmarks in dozens of cities and over 40 states will light up in the signature blue and green colors of the National Eating Disorders Association (NEDA) to put a spotlight on the seriousness of eating disorders.
The coast-to-coast effort will unite dozens of U.S. cities in observation of the 32nd annual National Eating Disorders Awareness Week (#NEDAwareness Week), Feb. 24 - Mar. 1, 2020. 
Click here to sign up as a 2020 volunteer landmark photographer!
ALABAMA
Renaissance Montgomery Hotel & Spa and Convention Center, Montgomery, AL – Feb. 28, 2020
RSA Tower, Montgomery, AL – Feb. 28, 2020
RSA Systems Building, Montgomery, AL – Feb. 28, 2020
RSA Dexter Ave Building, Montgomery, AL – Feb. 28, 2020
The Crescent Building, Birmingham, AL – Feb. 24 - Mar. 1, 2020
RSA Battle House Tower, Mobile, AL – Feb. 28, 2020
RSA Trustmark Building, Mobile, AL – Feb. 28, 2020
Renaissance Mobile Riverview Plaza Hotel – Feb. 28, 2020
RSA Van Antwerp Building – Feb. 28, 2020
ALASKA
Alaskan Tower in Lights, Anchorage, AK - Feb. 27, 2020
ARKANSAS
Big Dam Bridge, Little Rock, AR – Feb. 24 - Mar. 1, 2020 
Two Rivers Bridge, Little Rock, AR – Feb. 24 - Mar. 1, 2020
Junction Bridge, Little Rock, AR – Feb. 24 - Mar. 1, 2020
CALIFORNIA
LAX pylons, Los Angeles, CA - Feb. 24, 2020
California State University San Marcos, CA - Feb. 24 – Mar. 1, 2020

Lighting Hope & Wellness Patio

US Bank Tower, Los Angeles, CA - March 1
U.S. Bank Tower, Sacramento, CA - Feb. 24 – Mar. 1, 2020
140 New Montgomery, San Francisco, CA - Feb. 24 – Mar. 1, 2020
CONNECTICUT
Bradley International Airport Electronic Displays, Windsor Locks, CT – Feb. 24 – Mar. 1, 2020 

Electronic displays inside the airport will have NEDAwareness campaign image.

The Stilts Building, Hartford, CT – Feb. 24 – 27, 2020
DC
1625 Eye Street, Washington, DC -  Feb. 24, 2020
FLORIDA
Miami Tower, Miami, FL – Feb. 27, 2020
The Wheel at ICON Park, Orlando, FL - February 26, 2020
GEORGIA
Atlanta City Hall, Atlanta, GA - Feb. 24 - Mar. 1, 2020
The King and Queen Buildings, Atlanta GA – Feb. 24 - 29, 2020
HAWAII
Aloha Tower, Honolulu, HI – Feb. 24 – Mar. 1, 2020
IDAHO
8th and Main, Boise, ID – Feb. 24 – Mar. 1, 2020
US Bank Building, Boise, ID - Feb. 24 – Mar. 1, 2020
ILLINOIS
Prudential Plaza, Chicago, IL - Feb. 24 - Mar. 1, 2020
875 North Michigan Avenue, Chicago, IL -  Feb. 24 - Mar. 1, 2020
The Wrigley Building, Chicago, IL - Feb. 27, 2020
INDIANA
Indiana Power and Light Building, Indianapolis, IN - Feb. 24 - Mar. 1, 2020
Monument Circle, Indianapolis, IN - Feb. 24 - Mar. 1, 2020
KANSAS
LIED Center of Kansas, Lawrence, KS – Feb. 27, 2020
Flint Hills Discovery Center, Manhattan, KS - Feb. 24, 2020
Museum at Prairiefire, Overland Park, KS

Special private lighting in support of NEDA
LOUISIANNA
Mercedes-Benz Superdome, New Orleans, LA – Feb. 27, 2020
MAINE
Memorial Bridge, Portsmouth, NH & Kittery, ME - February 26, 2020
MARYLAND
Baltimore City Hall Dome, Baltimore, MD - Feb. 24 – Mar. 4, 2020
MASSACHUSETTS
Boston Harbor Hotel at Rowes Wharf, Boston, MA - Feb. 26, 2020
Rose Kennedy Greenway Conservancy, Boston, MA - Feb. 24 – Mar. 1, 2020
Zakim Bunker Hill Memorial Bridge, Boston, MA – Feb. 26, 2020
Kenneth F. Burns Memorial Bridge, Worcester, MA – Feb. 25, 2020
MINNESOTA
100 & 111 Washington Square, Minneapolis, MN - Feb. 24 – Mar. 1, 2020
35W Bridge, Minneapolis, MN - Feb, 25, 2020
MISSOURI
Metro Lighting Brentwood Promenade, Brentwood, MO - – Feb. 24 – Mar. 1, 2020
Metro Lighting Chesterfield, Brentwood, MO – Feb. 24 – Mar. 1, 2020
The Kansas City Power and Light Building, Kansas City, MO – Feb. 28 – Mar. 1, 2020
NEVADA
Las Vegas City Hall, Las Vegas, NV – Feb. 24 – Mar. 1, 2020
NEW JERSEY
The Ben Franklin Bridge, Camden, NJ/Philadelphia, PA - Feb. 27, 2020
NEW MEXICO
The University of New Mexico Dreamstyle Arena ("The Pit"), Albuquerque, NM - Feb. 25 - 28, 2020
NEW YORK 
Electric Tower, Buffalo, NY - Feb. 27, 2020
The Helmsley Building, New York, NY – Feb. 24 - 29, 2020
National Grid, Syracuse, NY – Feb. 24 – Mar. 1, 2020
Mid-Hudson Bridge, New York, NY – Feb. 24 - 28, 2020
The SUNY Plaza Building – Feb. 24 – Mar. 1, 2020
Rundel Library, Rochester, NY – Feb. 24 – Mar. 1, 2020
City Clock Tower, Yonkers, NY – Feb. 24, 2020
Weylin, Brooklyn, NY – Feb. 24 – Mar. 1, 2020
Park Avenue Tower, New York, NY - Feb. 24 – Mar. 1, 2020
NORTH CAROLINA
Wells Fargo's Duke Energy Center, Charlotte, NC - Feb. 24, 2020
Kimpton Cardinal Hotel – Feb. 24 – March 1, 2020
OHIO
Terminal Tower, Cleveland, OH – Feb. 25, 2020
OKLAHOMA
Crystal Bridge Tropical Conservatory, Oklahoma City, OK - Feb. 24 – Mar. 1, 2020
Skydance Bridge, Oklahoma City, OK – Feb. 26, 2020
OREGON
Union Street Railroad Pedestrian Bridge, Salem, OR - Feb. 23 – Mar. 2, 2020
Woodburn Bridge, Woodburn, OR - Feb. 24 – Mar. 1, 2020
PENNSYLVANIA
Sands Bethlehem Blast Furnaces, Bethlehem, PA – Feb. 24 – Mar. 1, 2020
Cira Centre, Philadelphia, PA – Feb. 25 – Feb. 27, 2020
FMA Tower at Cira Centre, Philadelphia, PA – Feb. 25 – Feb. 27, 2020
One Oxford Centre, Pittsburgh, PA – Feb. 24 – Mar. 1, 2020
RHODE ISLAND
I 95 Pawtucket River Bridge, Pawtucket, RI - Feb. 24 – Mar. 1, 2020
Sakonnet River Bridge, Rhode Island, Portsmouth and Tiverton, RI - Feb. 24 – Feb. 29, 2020
Rhode Island State House, Providence, RI – Feb. 23 – Feb. 29, 2020
TENNESSEE
State Capitol of Tennessee, Nashville, TN - Feb. 24 – Mar. 1, 2020
TEXAS
Houston City Hall, Houston, TX – Feb. 24, 25, 2020
Montrose Bridges over 59, Houston, TX – Feb. 24, 25, 2020
1600 Smith Street, Houston, TX – Feb. 24 – Mar. 1, 2020
Bank of America Plaza, Dallas, TX – Feb. 26, 2020
OMNI Dallas Hotel, Dallas, TX – Feb. 26, 2020
WASHINGTON
SR 520 Floating Bridge, Seattle, WA – Feb. 24 – Mar. 1, 2020
Columbia Center, Seattle, WA – Feb. 26, 2020