An article released today in the journal Pediatrics documents that a significant number of all who present for eating disorder (ED) treatment—nearly half, or more in some studies—were formerly classified as overweight or obese. 
While no surprise to ED professionals and sufferers, it's a breakthrough that a prestigious medical journal is finally substantiating the crucial need for healthcare practitioners to regularly screen for risky eating and exercise behaviors in all patients, irrelevant of weight.  When weight loss is simply applauded in higher weight people, and emotional or physical symptoms of disordered eating (such as mood and concentration problems, fatigue, or GI problems) are attributed to other causes, precious time for early intervention is lost, significantly increasing the likelihood of an intractable ED.
Whether for appearance or health, the perceived need to reduce fatness in higher weight children and adults today often means that maladaptive methods for weight loss or control are simply overlooked, or worse, given a blind-eye when they are noted. With a 66% rise in weight stigma since national campaigns to "prevent obesity" began in earnest, medical providers are not immune. (1) In fact, victims of weight stigma report physicians and family members are the most common source of weight bias. (2)  But contempt for fatness and pressures to lose weight are omnipresent, as reported in a 2010 CNN special report: Fat is the new "ugly" on the playground—by Katia Hetter, Special to CNN, Fri March 16, 2012
Well, so what? Isn't getting people to a "normal" BMI what's important after all? If higher weight children and adults feel stigmatized (how could they not), and are thus motivated to do whatever it takes through diet and exercise to lose weight, perhaps we should be willing to sacrifice a few, for whom this triggers an ED—for the greater good.  Right?
If it worked, this argument might gain some traction.  But a growing body of data now documents that fear of fatness, weight stigma, and body dissatisfaction predictably leads to poorer and disordered eating (usually starting with restrictive eating or "dieting," which, unless an individual is predisposed to anorexia, routinely lead to compulsive and binge eating). (3) Studies show this in turn leads to diminished health, and long term weight gain (not loss) for the vast majority of people. (4, 5, 6, 7)  Even if those who "diet" for weight loss do not develop a diagnosable ED, this does NOT predict a good outcome for anyone's long term health.
Clinicians like myself who have specialized in treating disordered eating have long understood this. Expectations that people should be able to conform to size standards as the route to health and/or attractiveness are not only ineffective, they lead people away from healthy choices.  In those who are vulnerable, these expectations and the choices they elicit may trigger an ED.
Unfortunately this information seems to have barely leaked to many medical practitioners, let along an unsuspecting public. As a result, ever younger children still earnestly believe their life depends on manipulating their weight more than it does on adopting the behaviors that support health.    Previously unimaginable, 7-year-olds fear eating will make them obese, and kindergarteners worry, "Am I fat?" Children who are already chubby internalize the weight stigma that surrounds them, learning to believe the bias against them is deserved, despite the many complex contributors to their weight status that are not in their control.  All of these children are at high risk for maladaptive choices.
What is needed is to transform the conventional question from "How to prevent fatness or reduce diverse sizes?" to "Regardless of size and shape, what should be taught to children about how to CARE for (not compare) their bodies?"—knowing that sustainable, healthy choices occur only when we stay connected to, engaged with, and caring for our bodies.
For medical practitioners and everyone, shifting the focus to behaviors instead of weight is a way to effectively intervene to catch risky behaviors early and support people of every size and shape to be the best they can be. 
1)    Puhl RM, Heuer CA (2009). The stigma of obesity: a review and update. Obesity (Silver Spring),
2)    Puhl R, Heuer C, (2010).Obesity Stigma: Important Considerations for Public Health. Am. J. Public Health, 100:1019–1028.
3)    Neumark-Sztainer, et al (2006).  Does body satisfaction matter?  Five-year longitudinal associations between body satisfaction and health behaviors in adolescent females and males; Journal of Adolescent Health 39. 
4)    Neumark-Sztainer D, Wall M, Guo J, Story M, Haines J, Eisenberg M (2006). Obesity, disordered eating, and eating disorders in a longitudinal study of adolescents: how do dieters fare 5 years later? J. Am. Diet. Assoc., 106:559-568.
5)    Neumark-Sztainer, D, Wall, M, Larson, N, Eisenberg, M, Loth, (July 2011). Dieting and disordered eating behaviors from adolescence to young adulthood: Findings from a 10-year longitudinal study Journal of the American Dietetic Association, Volume 111, Issue 7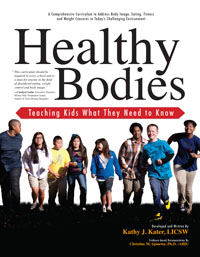 6)    Tomiyama, A.J. & Mann, T. (2012). If shaming reduced obesity, there would be no fat people. Hastings Center Report. PMID: 23650055
7)    Mann, T and Tomiyama, A. J, (2007). "Medicare's Search for Effective Obesity Treatment: Diets are Not the Answer," American Psychologist, April.
Kathy Kater, LICSW, is a psychotherapist and internationally respected author, speaker, and consultant who has specialized in treatment and prevention of the full spectrum of body image, eating, fitness and weight-related concerns for over 30 years. She developed Healthy Bodies: Teaching Kids What They Need to Know, a universal, comprehensive, evidence-based curriculum that inspires boys and girls to invest in caring for their bodies from the inside out; in eating well, enjoying physical embodiment and fitness, and in appreciation of the healthy, diverse sizes and shapes that result.  For more information: www.bodyimagehealth.org.