My first blog post. How exciting! I'm Iskra, a JAG fashion model, an ambassador for the National Eating Disorders Association (NEDA) and creator of the NEDA Inspires Seal of Approval, which we launched at NEDA's recent gala fundraiser and awards program in New York City.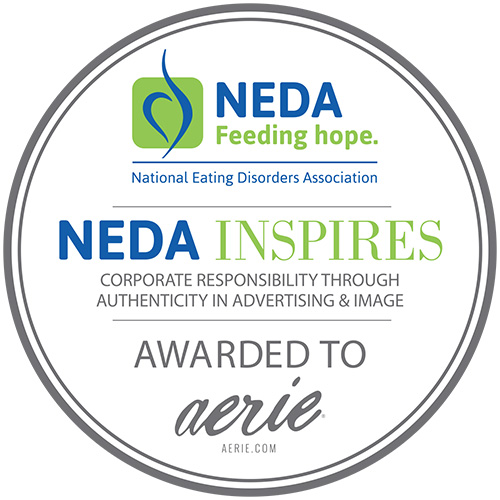 Much like the Good Housekeeping Seal of Approval has come to represent quality in lifestyle goods, we hope the NEDA Inspires emblem will represent social responsibility in advertising, image and editorial content – specifically, content that challenges the thin "ideal" and promotes diverse representations of beauty.
Advertising and media outlets are notorious for featuring unrealistic, retouched images that contribute to poor self-esteem and play a role in the rising epidemic of eating disorders.
In fact, Sixty-nine percent of American elementary school girls who read magazines say that the pictures influence their concept of the ideal body shape, while 47% say the pictures make them want to lose weight. [1] The genesis of developing an eating disorder typically begins with a diet, with 35 percent of "normal dieters" progressing  to pathological dieting and, of those, 20-25 percent progressing to partial or full-syndrome eating disorders. [3]  
At 24, I have been in the industry for 11 years … But I was dropped by my first agency at age 15 when my hips were deemed "too big" …  then found "too small" by plus-sized reps at the time. Today, I am proud to be represented by JAG, the world's first agency to embrace models above size six and prove that beauty comes in all shapes and sizes because it shines from within. Without them, I wouldn't be here!
Love who you are! It is my goal for the NEDA Inspires Seal of Approval to become an internationally recognized symbol for images and messages that are safely promoting body diversity, confidence and self-love at any shape or size. And, I hope to inspire fashion brands to be part of this movement for positive change. We don't belong in a one-size-fits-all box.
I am beyond excited to award the first ever NEDA Inspires Seal of Approval to the intimate apparel line Aerie.  Aerie has taken a leadership role by making a corporate commitment to body-positivity in its advertising and marketing with its #aerieREAL campaign [2] and a pledge to no longer retouch models in any way. 
It means so much to me that Aerie received the first award. As an Aerie model, I work with the Aerie team and know how much they believe in their message and strive to help change lives. I am frequently contacted by young girls who have been inspired by Aerie's campaigns and dedication to improving the relationship we have with our bodies. 
Aerie has set the bar quite high, but hopefully NEDA Inspires will encourage more companies to improve their messages and promote healthy body image. 
And, what better place to celebrate than at NEDA's gala, where I was joined by my friends and fellow JAG models, Chloe Marshall, Marelle White, Lauren Chan and Bree Warren.
I left my dress shopping 'til last minute but I found it.  Thank you BCBG!  Maybe subconsciously, I'm still a little obsessed with Cinderella, but blue has always been my favourite colour. I love the ocean and clear skies. I had my hair done at Muze salon (beachy waves, a la Jennifer Aniston), but then it proceeded to rain so, I have no idea what to call the end result. 
Guastavino's in midtown Manhattan was stunning with NEDA's colours lighting up the beautiful, vaulted ceiling and delicious hors d'oeuvres and cocktails being served while the mingling commenced … But while it was a fun and elegant evening, the awards presentation quickly reminds us that we're all here to raise money for a very serious issue and to honor people who are making a difference in the effort to raise awareness about eating disorders, find a cure for these life-threatening illnesses and to increase access to affordable medical care through legislative efforts.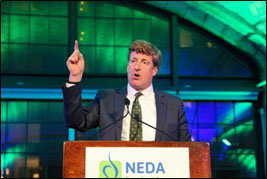 The first award of the night was the Profile in Leadership Award. I am so grateful to have met the Honorable Patrick J. Kennedy, former U.S. Representative, Rhode Island; co-founder of One Mind for Research; and founder of the Kennedy Forum. His speech will stay with me forever.  He challenges us to create a better world for everyone and to believe that your dreams can never be too big. 
The Corporate Leadership Award was presented to Jaclyn Sarka & Gary Dakin, co-founders of JAG Models and, dare I say, the best agents in the world. (Okay, maybe I'm biased but they really rock!) With over 20 years in the fashion industry, Gary and Jaclyn are changing industry standards and setting an example to the rest of the fashion world. 
The Lifetime Achievement Award was presented to Margo Maine, Ph.D., NEDA Founder, NEDA Senior Advisor, clinical psychologist and author.  Dedicated to the field of eating disorders for over 30 years, it would be impossible to list all her accomplishments. Her hard work and selfless commitment saves lives and inspires me.
The evening was fun and raised a lot of money for a good cause … but most importantly, it was a reminder that we can all make a difference. I'm thrilled to be a NEDA ambassador.  I can hardly wait to see where NEDA Inspires takes us and will do my best to help in any way I can.
REFERENCES:
[1] http://www.jahonline.org/article/S1054-139X%2896%2900176-0/abstract 
[2] https://gma.yahoo.com/blogs/abc-blogs/american-eagle-39-lingerie-line-fe...
[3] Shisslak, C.M., Crago, M., & Estes, L.S. (1995). The Spectrum of Eating Disturbances. International Journal of Eating Disorders, 18 (3): 209-219.