Planning a wedding can be stressful at times—says every person I've ever met. The details, the pressure to please everyone, and the expectations we create are things that cause us to stress out at moments. Yet, for me, planning a wedding brought along an entirely different set of worries on top of the common ones. I had to plan a wedding with one goal in mind: to stay strong in my eating disorder recovery. 
Most resources I've read say that on average, recovery takes about seven years, but it can take much longer than that. It's different for everyone. I wasn't even a full year into recovery and had only been out of treatment for around four months when the love of my life proposed. While this was one of the best moments and a very special time, the engagement and wedding planning did pose some threats to my recovery from anorexia. It was as if the moment I got engaged, I had to go into an even deeper battle against some of my most challenging eating disorder triggers. 
Of course, not everyone understands eating disorders, and this made planning extra challenging at times. Thankfully, my now husband is extremely supportive and worked through many obstacles with me. In some ways, planning the wedding and fighting my anorexia together as a team made us stronger and more prepared for marriage. It wasn't easy, but, in the end, we learned to do what was best for us. Here are some of the most useful pieces of advice we have for anyone planning a wedding and recovering from an eating disorder at the same time!
Plan your engagement and wedding date in a way that works for you. 
Engagements can be as long as several years, or as short as a few weeks. Weddings can happen in any season and just about any setting. There's no right or wrong, except if you plan anything for the sake of making other people besides your fiancé happy. Talk about what makes sense to you time-wise and financially, but also consider what will be best for the person in recovery. If the idea of planning and stretching out the engagement seems more likely to cause disordered eating with the passing of time, you may want to set a date ASAP. If you're like me and can't handle stress well, you may want a year or several months to spread out the planning process and take it one step at a time. 
When family and friends learn about your engagement, they often give unsolicited advice and may suggest dates and venue locations. The pressure from this can easily trigger anxiety and eating disorder thoughts. It was very helpful for me and my husband to discuss these and plan a date before we announced anything to anyone. 
Be cautious when it comes to social media. 
Social media was personally one of the biggest challenges I faced in wedding planning. It may sound silly to someone who isn't familiar with eating disorders, but those with an eating disorder can agree that the media can be triggering at times. When I changed my status to "Engaged" on my social media profiles, many triggering ads and pages began to show up immediately on my newsfeed—ads for weight loss programs and diet pills, pages for exercise tips, and even something called a "Bridesmaid Boot Camp" appeared. As someone already struggling with body dysmorphia, these images and words fed into my insecurities. Despite knowing that someone's size or appearance shouldn't at all matter if someone really loves you and proposed to you the way you are, I worried about gaining weight more than I had since entering treatment. 
Social media can be useful to see other people's wedding photos, get recommendations, and share your exciting moments, but it's not worth it if it causes you to stumble. Losing weight or trying to look like someone else isn't going to make you happy or add anything positive to your wedding day. Unfollow any triggering pages and block any disturbing ads you come across. It might be smart to take a break from social media altogether if it's too toxic. Most importantly, communicate to people you trust how these ads or pages make you feel. Even if people don't understand you, it helps to talk about it and create a game plan to help you stay on track in recovery.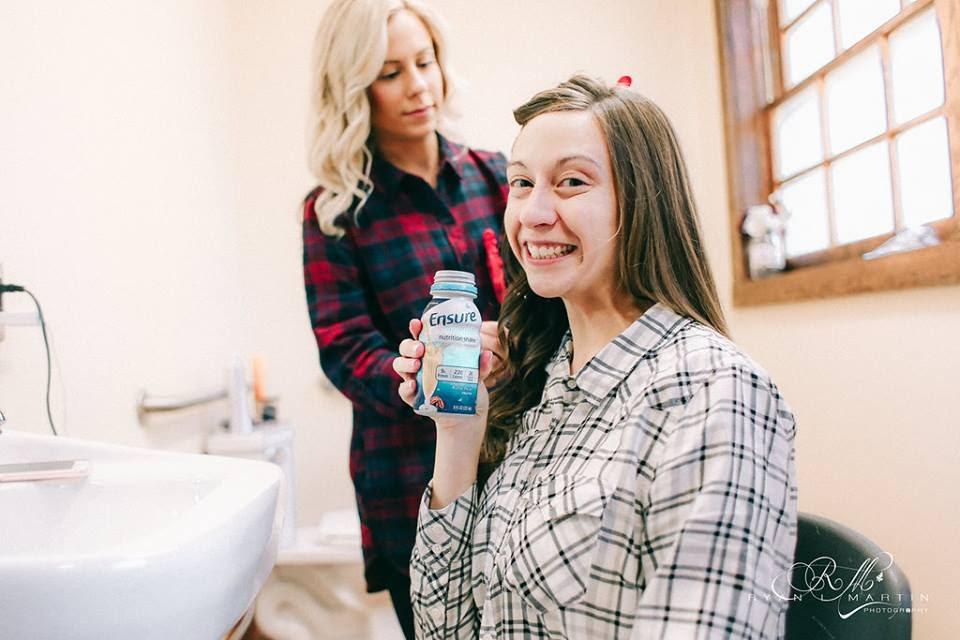 Talk to a therapist. 
Without the help of my therapist, I'm not sure if I would have been okay during wedding planning. Talking to someone neutral who is professionally trained in helping lots of people with your problem and has your health in the best of interest is priceless. My therapist helped me when I began to face my first relapse. At a time when I should have been happy, I was getting sick from a weak immune system. I was suddenly in a race against ED to fit into my dress because my illness had made it too large on me. It didn't make me feel excited the way anorexia once had, and I felt as if I was a failure. I worried that the eating disorder would ruin my wedding day, the way it had destroyed so many other important occasions. It was a rough time, but having her support me and hold me accountable helped me win the fight. No matter how much you might talk yourself out of it, it's never a bad idea to have extra support. 
"Yes to the dress" should mean "no" to an eating disorder. 
Suit or dress, whatever the person with an eating disorder is planning to wear should never be a motivation to continue in disordered habits. Like setting the date and deciding on a venue, clothing should be totally 100% based on what makes a person feel good and confident. Since clothing is something that is easily a trigger for those with eating disorders, it's helpful to have styles and ideas in mind before shopping so the process isn't as overwhelming. Think about what makes you feel comfortable and dream only about how awesome you're going to look. Talk to yourself the way you would to one of your bridesmaids or groomsmen. Be kind to yourself. 
It's also crucial to bring only people who are supportive and encouraging with you if you decide to go to a store to try on items. Eating disorders shout enough insecurities in your ear as it is, so you don't need anyone coming along who will say or do negative things. Also, don't be afraid to be untraditional. For me, the idea of trying dresses on and having someone measure me or talk about size was too overwhelming, so I purchased a dress online. I've heard about other people taking their fiancés with them. Again, everyone is different, so go with what works for you. Don't let an eating disorder ruin this fun part of planning. 
Again, be as untraditional as you need to be.  
Don't worry about what everyone else is doing. For sure, there's a common way to do things when it comes to weddings, but rules or traditions are made to be broken. We discovered lots of things along the way that immediately seemed like a threat to my recovery, and either had to come up with an alternative, or skip it altogether if it was something I wasn't ready for. We had a couple's shower instead of an all-female one so my fiancé could be with me, we skipped having a rehearsal and a rehearsal dinner, and we had an all vegetarian reception so that everything on our menu was meal-plan friendly for me. On the day of the wedding, we opted to do a "first look," rather than waiting to see each other for the time during the ceremony. This "first look" wasn't traditional, and none of my siblings had done this in their weddings, but for us, it was perfect. It was sweet and extra personal. It also, of course, made me feel more comfortable and helped me not worry about ED. 
Know ahead of time what could be a stumbling block for you and come up with a plan for it. Talk about all of the "what-ifs" so that there's little opportunity for your eating disorder to crash your special day.