Dear KJ: My Mother is Urging Me to Lose Weight for My Wedding. Help!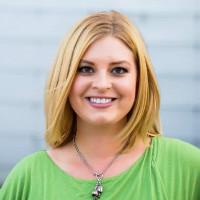 Posted: September 26, 2016
"Dear KJ" is an advice column by Dr. Kjerstin "KJ" Gruys, sociologist, author and body image activist. She holds a Ph.D. in sociology with a focus on the politics of appearance and is the author of Mirror Mirror Off the Wall: How I Learned to Love My Body By Not Looking at It for a Year (Avery Press, 2012). Her work and writing have been featured by Good Morning America, 20/20, The Colbert Report, USA Today, People, New York Times, Los Angeles Times, Washington Post, NPR's "Tell Me More" and "On Air with Ryan Seacrest," among others. Find her at kjerstingruys.com.
I'm planning a wedding and my mother keeps telling me to lose weight to look better in the photos. How can I confront her about this without starting a fight?
I completely understand how you feel. In fact, the anxiety I felt about my body when I was planning my wedding was so intense that I ended up writing a book about it! I wasn't getting pressure from my mom to lose weight, but I was pressuring myself. You can read all about that in my book, but to answer your question I asked one of my sociology colleagues, Maddie Jo Evans, who is not only doing a research project on the wedding industry, but is also a wedding photographer on the side! Here's what Maddie had to say:
From what I have seen in my field work, in my interviews and as a wedding photographer, mothers and mother-in-laws seem to be the most likely to put pressure on their daughters/in-laws to lose weight. Many of the women I've spoken with have said that their mothers were the first to mention or "hint" that they ought to drop some weight for their wedding day. Most of them say that it is difficult for them to push back because their mothers are helping to pay for the wedding and the dress. Some brides even feel pressure to buy a dress in a smaller size than their current body.
Many brides say that their mothers have always been their biggest critics and many have dealt with their moms making remarks about their bodies throughout their entire lives, but things become amplified by the wedding. Being exposed to messages from bridal media, mothers, family members and partners make the idea of losing weight for your wedding a normalized and expected thing. Even women who were satisfied with their bodies on any normal day worried that their current body would not be good enough for their wedding day. This pressure can push brides into unhealthy eating and workout patterns. 
My advice is to explain to your mother that you're is happy with the way that you look, and that you feel beautiful in your own skin. If you feel that you will be happy on your wedding day without losing any weight, then I hope you can respectfully tell your mother that and make it known that you aren't willing to change yourself for the expectations of others, even your mom. 
Our culture teaches us that the only way to be a beautiful bride is to be a thin bride, and this simply is NOT TRUE! As a wedding photographer I can promise you that it is not weight loss, but happiness and confidence that make for the most beautiful wedding photos. Have a wonderful time!
Best,
Maddie Jo Evans
P.S. Also, it might not hurt to remind your mother that all of this pressure for brides to lose weight is part of a huge wedding "industry" that makes gazillions of dollars by convincing brides AND their families that the only way to have a good-enough wedding is for everything to be perfect, from the dress to the decorations to the bodies of the people on display. This pressure is SO gendered. We assume that brides and their mothers are totally responsible for making sure everything is perfect, which is really sexist and stupid. But, given this, maybe your mom is feeling pressure from these cultural ideals, rather than from her own heart. She might even feel a sense of relief if you show her that your priorities are not about keeping up appearances, but about celebrating with your soon-to-be-spouse and family and friends. Assure her that she can help you have your dream wedding by worrying about what's best for you rather than striving for an impossible and expensive standard of perfection. 
- KJ
Read More