Last night, NEDA's President & CEO, Lynn Grefe, was honored by Women's e-News (WeNews) as one of the 21 Leaders for the 21st Century. Lynn was specifically recognized among the 21 leaders as one of the Seven Who Speak Across our Generations – leaders who are dedicated to improving the lives of women and girls.
"While the causes are diverse," said Lynn, "each of the honorees holds a prominent place in advancing women's position and enhancing their health and lives around the globe. I am humbled to be included among such a stellar group of female leaders and activists."
As President & CEO of NEDA, Lynn has overseen the creation and expansion of innovative and ground-breaking programs to meet the needs of those seeking recovery, their families and friends.  Some of Lynn's prime initiatives include: the NEDA Navigators program; Loss Support Network; NEDA's Helpline; Proud2BMe.org and the expansion of the STAR program.
The NEDA team is so proud of the accomplishments Lynn has achieved in the fight against eating disorders during her ten-year (and counting!) tenure, but Lynn's role as a crusader for women's health began long before she became NEDA's CEO.
Prior to NEDA, Lynn worked in the criminal justice system; the private sector for a variety of corporate and non-profit clients on advocacy issues in the U.S. and abroad; and within the political arena representing women's reproductive health.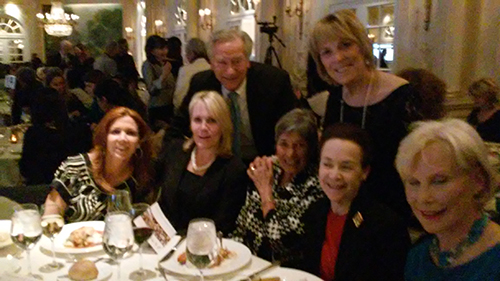 As Rita Henley Jensen, WeNews editor-in-chief, put it, "the 21 leaders selected in 2014 advance the idea that women's rights are human rights across the globe, carrying forward decades of activism and dramatically changing what the future holds for this generation of emerging women."
Lynn's work certainly fits that bill. Though by no means an exclusively "women's problem," approximately 20 million women in the United States alone will suffer from an eating disorder at some point in their lives. At NEDA she works to educate, advocate and spread awareness about eating disorders, which take more lives than any other psychiatric illness.
"Nobody should ever die from an eating disorder, but they do," commented Lynn, "and that has to change."
Congratulations to Lynn and all of the honorees, and thank you to Women's eNews!