What an amazing turnout we had at this year's Los Angeles NEDA Walk in sunny Santa Monica, California! As I take a while to pause and reflect on all of the time and energy that was put into preparing, sharing and executing this inspiring and emotional event, I am sad that it is now over, but I am also ready and preparing to have an even bigger and better time for next year's event.
When I was approached by NEDA to captain the LA Artists Initiative Team, which first started in New York City, I felt grateful and blessed to be a part of such a momentous occasion and felt unsure if it was something that I could be responsible for. Was I meant to be a leader? I am so flawed!
As a woman who has worked in the entertainment industry for the past seven years, I can attest to the tremendous struggle I have had battling my own eating disorder and trying to keep my head afloat. But NEDA's Artist Initiative is a developing program that helps all people from artistic and entertainment backgrounds to come together and stand up for their rights to be individualists and speak out against eating disorders.  I decided to leave the industry in August 2012 after my mom died from her addiction, and until I could get myself healthy and whole again. Even as of late, I have had to make some very tough decisions of knowing when to draw the line and not return to work just yet. I now see my health as a top priority, and I want to make sure that when I do go back to the industry full time, that I am a role model of vitality that people everywhere can look up to. That is why I decided to captain the Artists Initiative team for the NEDA LA Walk.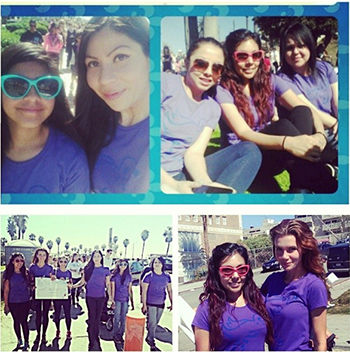 In preparing for this walk and getting together the team, I have had the great privilege of working with some of the most beautiful and hardworking people I have ever known. Susana Fernandez, a gifted artist and teacher in Los Angeles, designed shirts and sold them for the NEDA Walk, and she was tremendous in raising money for the walk and giving of her time and energy. And, in the irony of it all, we found out on the day of the walk that we share the same birthday, March 21! (Go Aries cusp!) She brought along her family, and me my husband, and we shared a wonderful experience that I will remember for the rest of my life. I have so many people to thank that were also on my team that I did not see at the walk but really want to thank: my husband, all of my family and friends who supported and donated, Vanessa Rosas at Vaszaro for designing the beautiful NEDA scarves, Heather Dorak, Rebeca Noriega, Sarah Salazar, Ellen Domingos, Julie Steinberg, Lynn Grefe, and everyone at NEDA. I also want to thank Brian Cuban for his book, Shattered Image, and his continued support and help for raising awareness with body dysmorphic disorder (BDD) and eating disorders.
One of the most important things I have learned from doing this event is how important it is to get beyond myself, my disorder, and to focus on the things that truly matter in life. It also reminded me to respect my limits and embrace my strengths. I know that being in entertainment really can suck the life out of me and causes me at times to become very vain, but I find great joy and satisfaction in helping others and seeing other people rise higher. I find no true happiness in constantly thinking about myself, my weight, my size, my looks, etc. And for me, the only true pleasure in this world is to love others. I thank NEDA for the opportunity to have done that at this year's walk, and I look forward to the many more to come!
(In the photo attached: Our amazing team members, wearing our purple shirts that Susana Fernandez designed. They say: "I <3 my body. I won't apologize for it. I nourish it. I own it." That's me with Susana on the bottom right. On the bottom left is a photo of all of us marching in the walk holding up our Team sign that reads, "I <3 my body. I won't apologize for it. I'm worthy.")